Woodsmith Fence Corp's Fencing Solutions
Proudly Serving Buffalo, NY
Whether you're looking for residential fencing solutions in Buffalo, NY, for your home, preparing to fence in your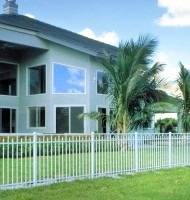 commercial building or searching for a temporary fencing solution for your event or construction site, turn to Woodsmith Fence Corp. We offer versatile, specific and affordable fencing solutions for permanent and temporary use.
Residential Fencing Solutions
If you're looking for a fencing solution for your home, look to Woodsmith Fence. We have a variety of affordable fencing solutions. Working with your budget, we can help you get the fence you want. We offer fencing made of vinyl, wood, aluminum and chain link.
We also offer expert installation and customer service. You'll be happy with the service you receive as you find your perfect residential fencing solution.
Commercial and Temporary Fencing Solutions
We also offer commercial and temporary fencing solutions for your business or event. We offer installation and disassembly of temporary fencing and construction fencing. Tailored to meet your needs, our fencing systems will keep your schedule on track and prioritize safety.
From retractable bollards to pedestrian barriers or construction fencing, Woodsmith Fence Corp offers high quality fencing.
Contact Us
If you're ready to find your perfect fencing solution in the Buffalo area, contact our team at Woodsmith Fence Corp. We'll help find the fencing for you and offer you an estimate.