Buffalo, NY Aluminum Fencing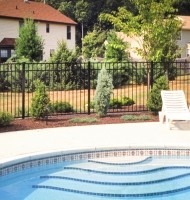 If your fence is run down, you know it's a problem. An old and broken fence is an eyesore. Your neighbors see it when they drive by, prospective buyers see it when they pull up your driveway, and most importantly, you see it every day when you come home from work. Worse than just being ugly, a broken fence can also be a safety issue. If you have young kids, they could get hurt playing around the fence. Smaller pets may be able to squeeze through openings and run onto the road. However, if you've recognized that you want a new fence, you should consider ornamental aluminum fencing in Buffalo, New York.
Aluminum Fence Installation
A quality aluminum fence will give your property the protection of a traditional wrought iron fence - but without you needing to worry about any maintenance. It comes in a wide variety of styles, colors, and heights - you can go with a more traditional aesthetic, or choose a more modern look for your home. Ornamental aluminum fencing also adds prestige and value to your property, as it gives it a timeless look and suits virtually every kind of yard. What's more, if you choose a Jerith aluminum fence, you'll receive a lifetime warranty that covers rust, defects, and peeling or cracking finish. Not only will you not have to do any maintenance - but you'll never have to worry about purchasing a new fence because the old one is struggling!
Professional Ornamental Aluminum Fencing
Since our inception, our business has been dedicated to providing our customers with quality aluminum fencing. The foundation of our business is a core set of ethics that encourages all of our employees to focus on honesty and integrity rather than the bottom-line.
Unsure of what type of fencing you want? Then ask one of our experts. We'll provide you with answers to all of your questions, and we'll help you choose a type of fence and style that suits your home's personality.
Get a Free Quote
Ready to get started? Then contact us through our online form and we'll be happy to provide you with a free quote and consultation!