WoodSmithFence Corp.
provides clients with a wide variety of Commercial Fencing services including Athletic Facility Fencing, Ball Stopper Systems, Perimeter Fencing, Gates, Ornamental, High Security Fencing, Gate Operator Systems and much more listed below. WoodSmithFence Corp, is a team of experienced installers. We provide cost-effective solutions for all types of fencing projects that you might need. We understand and help focus on customers goals with staying on schedule and within budget. We Help reduce overall costs for our customers and assist in emergency repairs.
ATHLETIC FIELD FENCES • BALL FIELDS - BACKSTOPS • TRACK& FIELD STADIUMS, BASEBALL AND SOFTBALL BACKSTOP FENCE • TENNIS COURTS, BASEBALL AND SOFTBALL FIELDS • SOCCER FIELDS • SPORTS CENTERS • MULTI-USE SPORTS FENCING • TENNIS COURT FENCING • BASKETBALL COURTS • CAGES • FOOTBALL STADIUMS • PLAYGROUND FENCE INSTALLATION • BASEBALL FIELD FENCING • DRIVING RANGES • AMUSEMENT PARKS • WAREHOUSES • DISTRIBUTION CENTERS. AND DROP-LOTS • PRIVATE BUSINESSES • GATED COMMUNITIES • MULTI-FAMILY LIVING. APARTMENT LIVING FENCES • ATHLETIC FACILITIES • CLUBS AND RESORTS • TENNIS COURTS • SCHOOLS, COLLEGES, AND UNIVERSITIES • STADIUMS • CANNABIS FACILITIES • INTERIOR FENCING AND GATES • PRODUCT CAPABILITIES • GUARDRAILS AND SAFETY BARRIERS • BACK STOPS AND NETTING • CAGES AND WIRED SECURITY BOOMS WINDSCREENS • BOLLARDS AND SAFETY GUARDS • ORNAMENTAL • WOOD AND SPLIT RAIL • ROPE AND BOLLARD • PREVENTATIVE ROCK FENCING • CUSTOM DESIGN FENCING AND MUCH MORE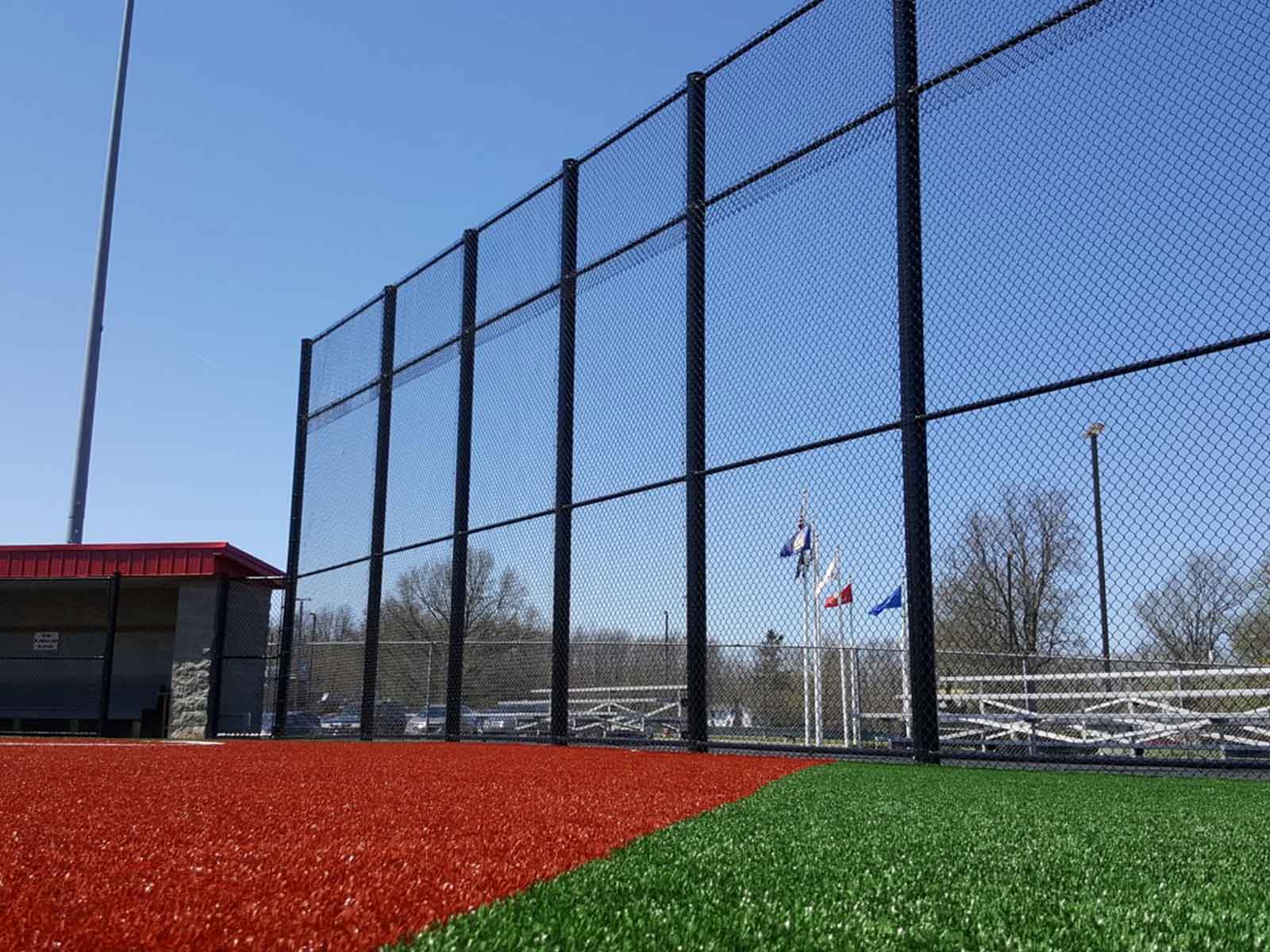 ATHLETIC FIELDS & BACKSTOPS FENCES
Professional Track, baseball and softball backstop fence installations by WoodSmith Fence Corp. We install fences at tennis courts, baseball and softball fields, soccer fields, and any type of ball field or track. Professional sports facilities and any other, Sports centers or multi-use sports fencing applications, we have the experience to do the job right.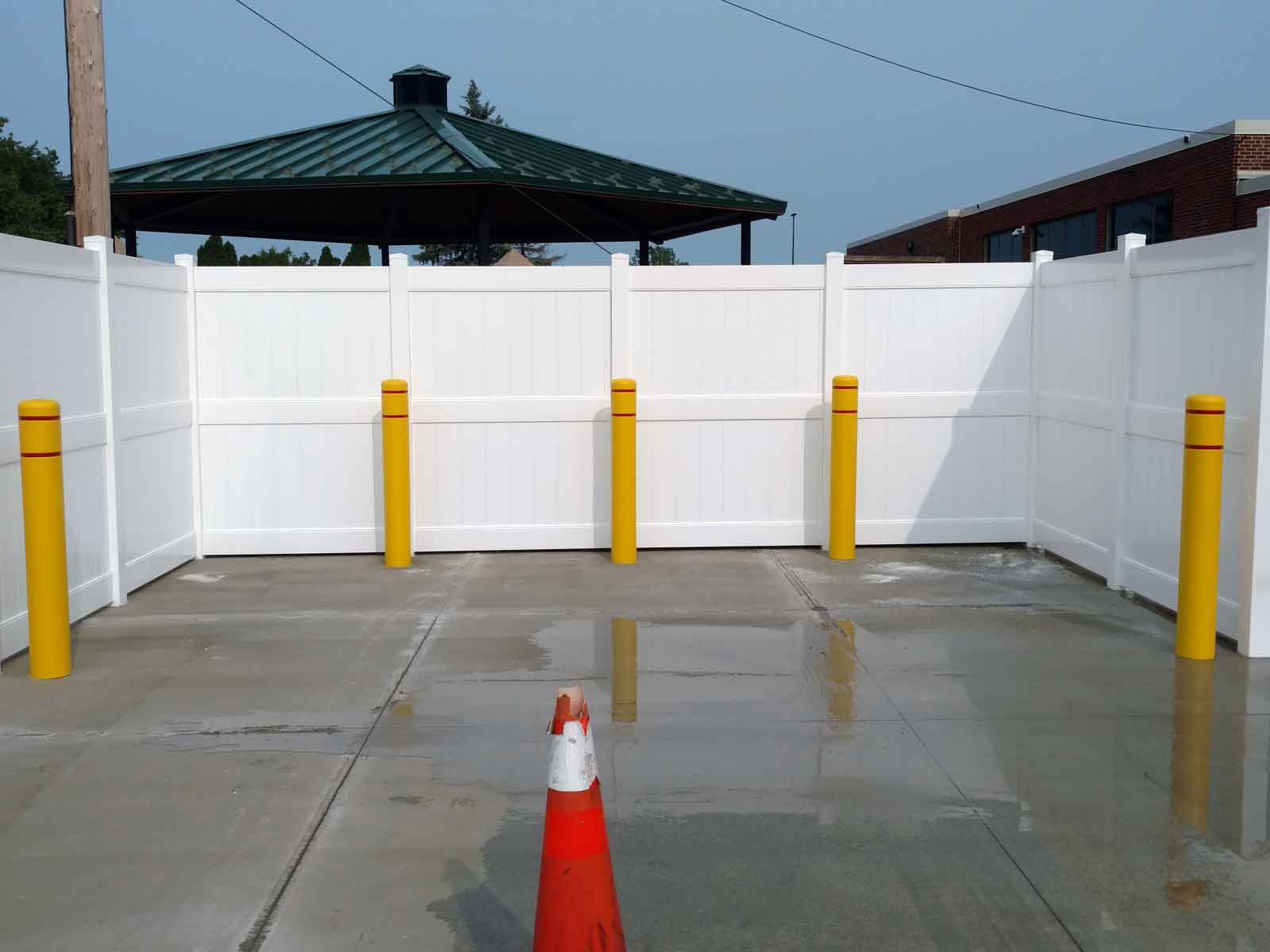 COMMERCIAL BOLLARDS
Commercial bollards are built effectively to protect your property. We install bollards according to your specifications. When installing posts, you want to trust that they will stop the force of a car, boat, or other high-speed machines. Our expert crews will install it according to the highest safety standard.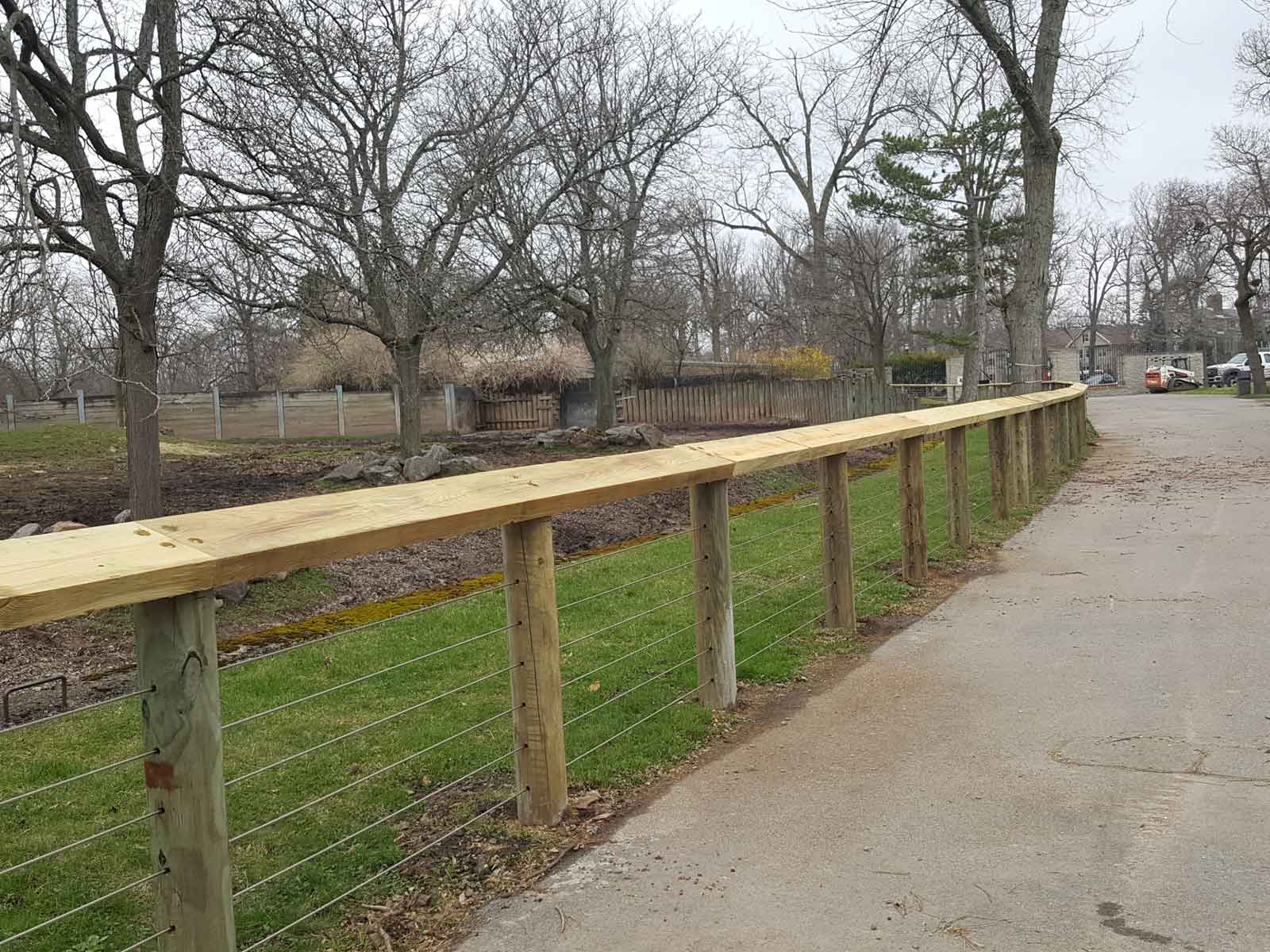 FENCING FOR ZOOS AND WILD ANIMAL PARKS
We help zoos today to create fun, welcoming environments that allow visitors to view animals from a safe distance without compromising on visibility, or making wildlife feel cramped and uncomfortable.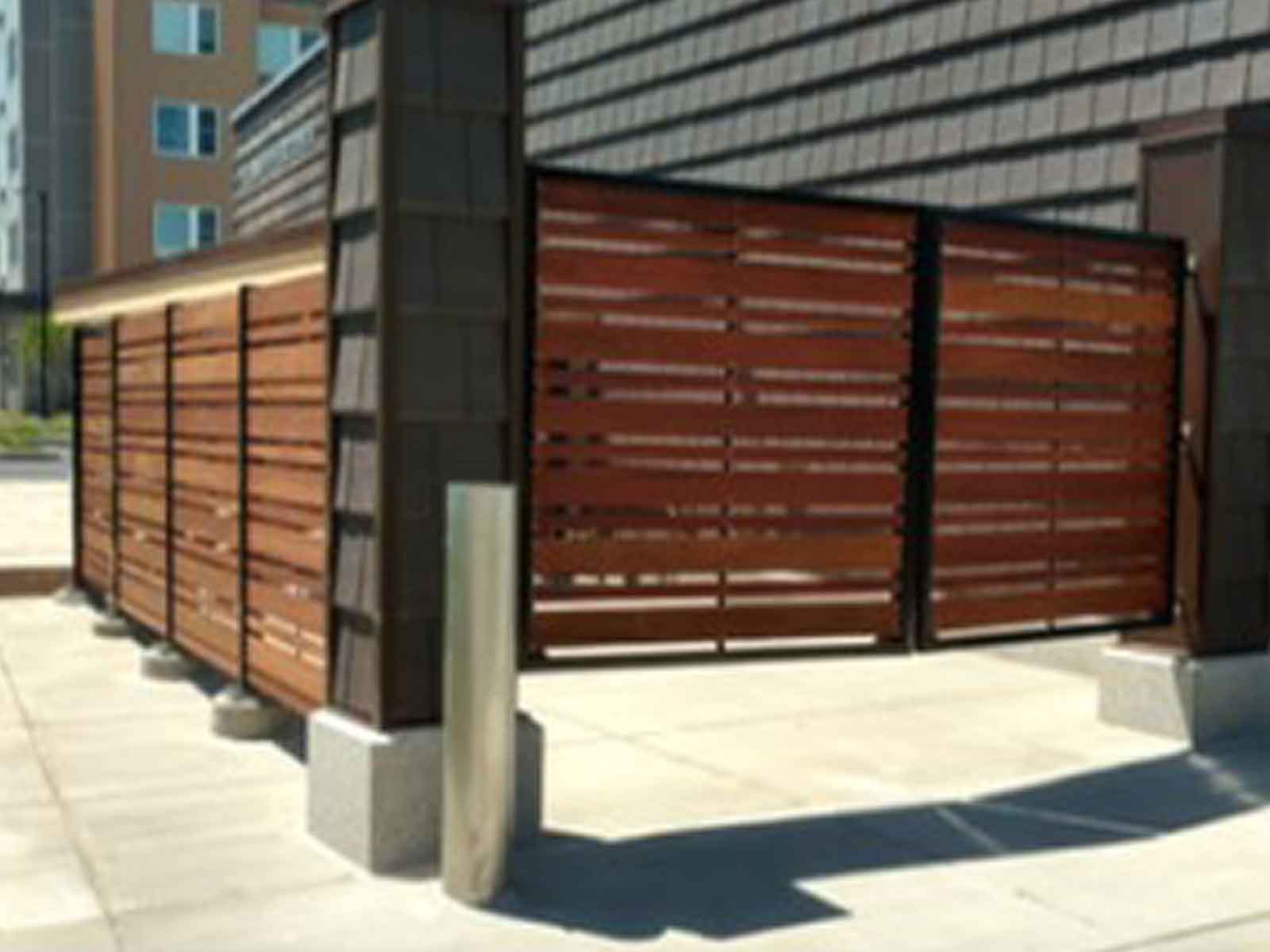 RETAIL, DUMPSTER, ENCLOSURES
WoodSmith Fence understands the importance of your dumpster area. It's not the most glamorous part of your commercial building or property. However, we offer an attractive dumpster look as well as safe from unwanted intruders and favorable to your site or landscaping. We create and install custom dumpster gates and enclosures that comply with city ordinances, look exceptional, and add security.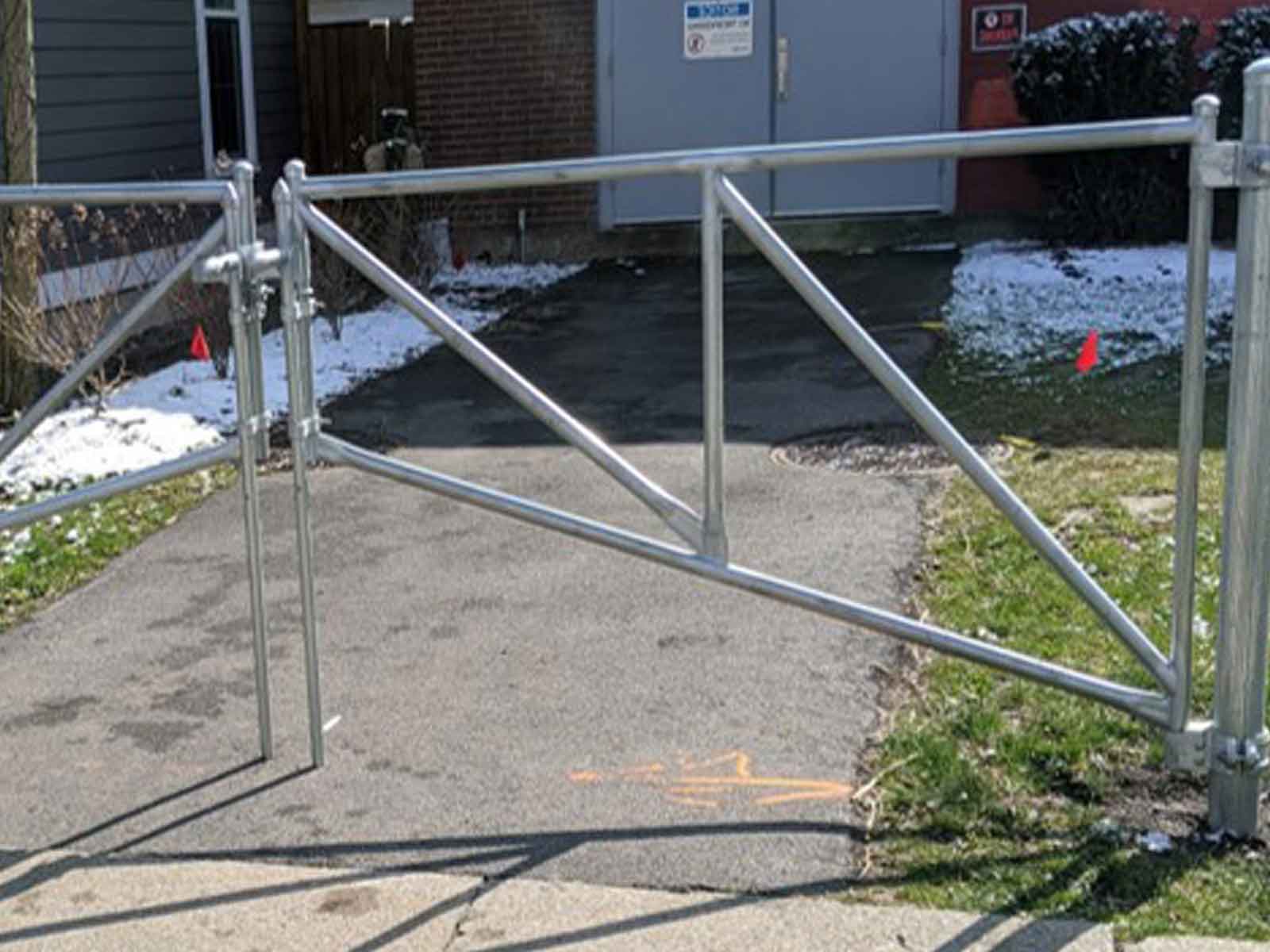 COMMERCIAL TUBULAR BARRIER, TRUSS GATES
Our Tubular Barrier Gates are perfect for use in agricultural, commercial, applications. Gates are available in Galvanized Steel. We offer gates in many sizes, and single or double swing gate configurations. With double gates up to 40' wide, there is sure to be an option that fits your project's needs.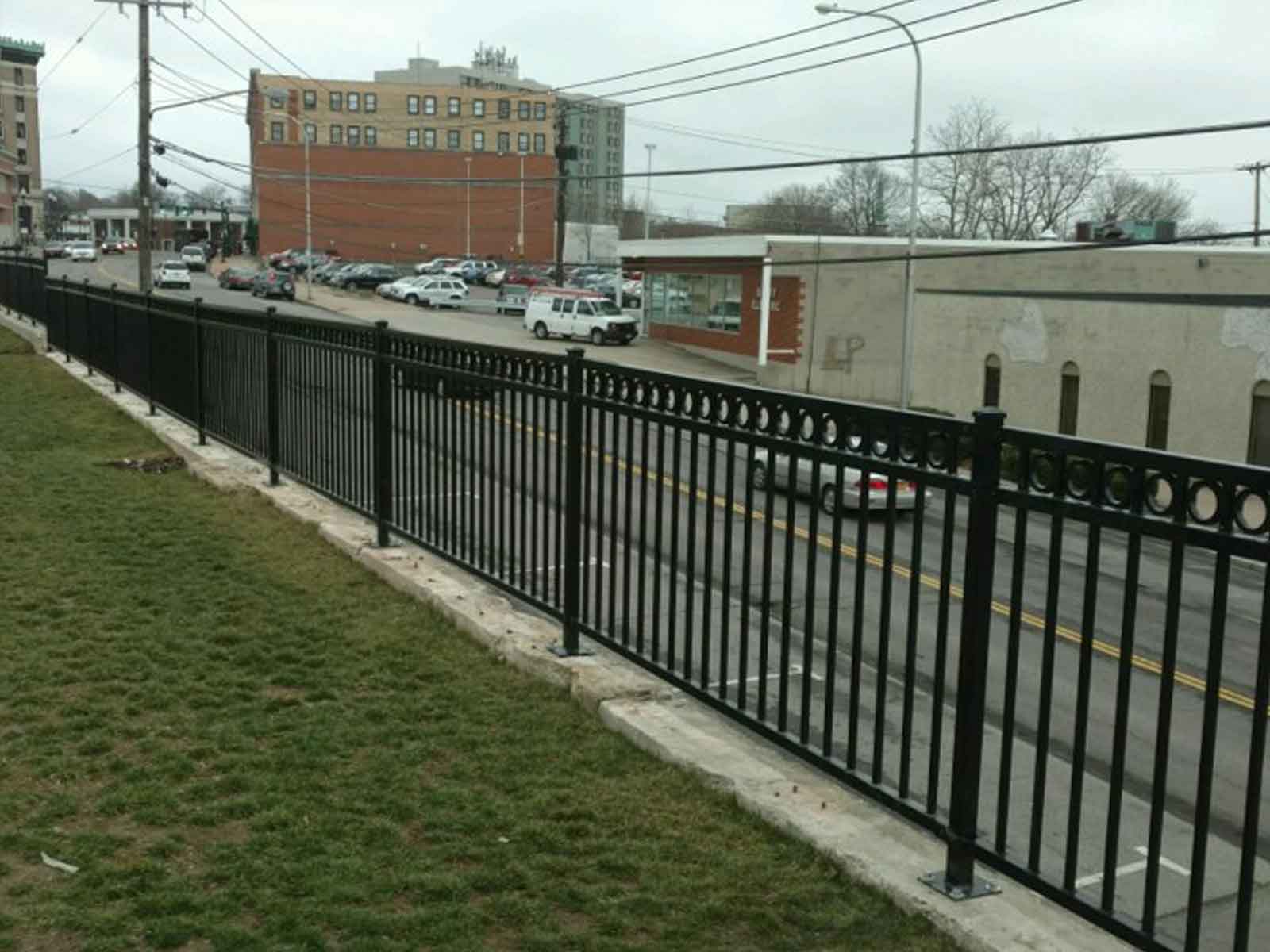 COMMERCIAL WROUGHT IRON FENCING
Wrought iron, fences are an elegant choice for those who want to dress up their business or company but do not require the privacy of wood at an economical price.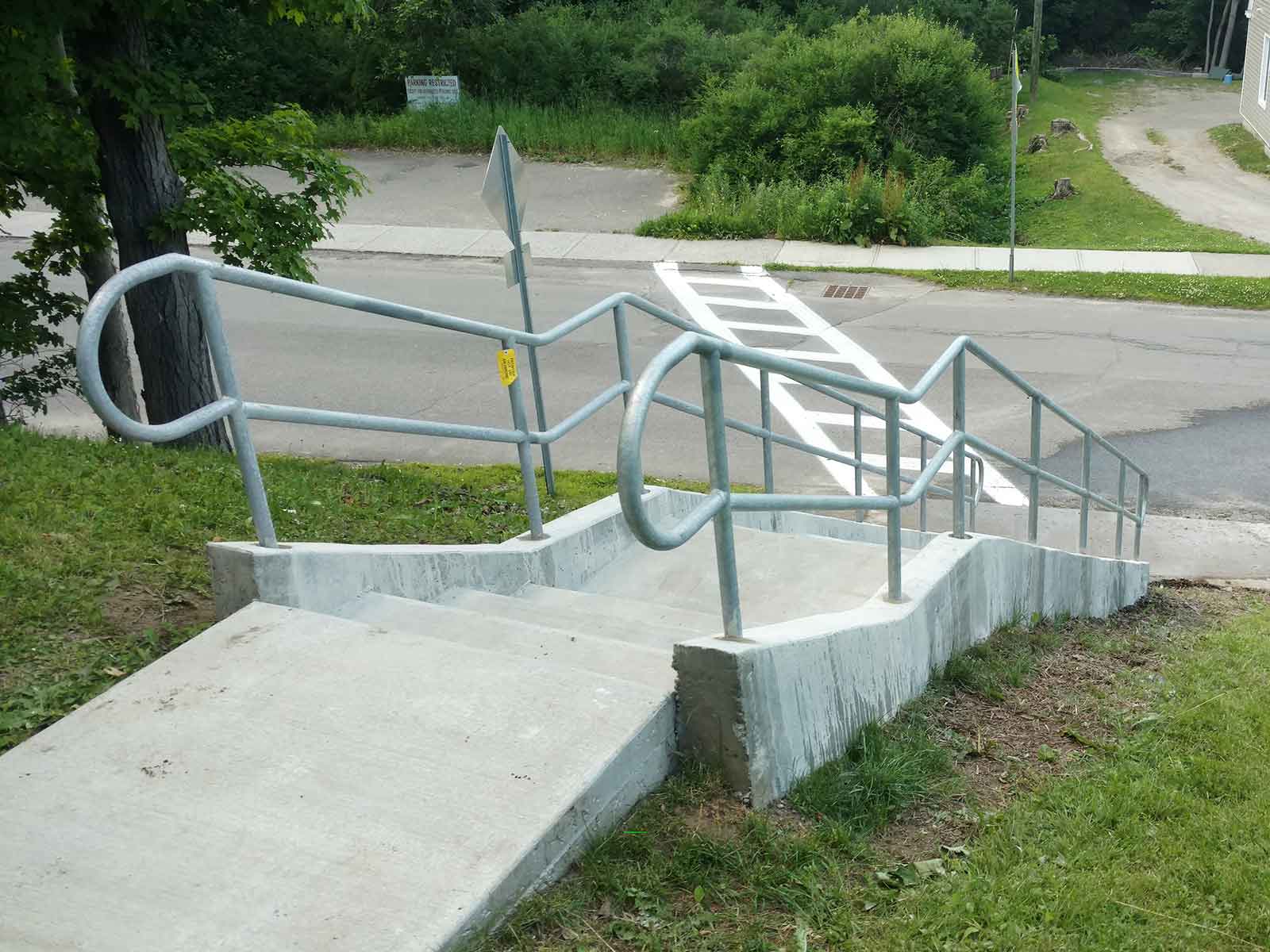 HANDRAILS FOR COMMERCIAL PROPERTIES
Handrails can be added to enhance the appearance and coordinate with the overall design. For everyone's safety, we offer ADA (Americans with Disabilities Act) compliant solutions for ramps or stairs.