What Fencing Solutions are Right for You?
Installing a fence is a big project, but before you get started with installing it, you want to make sure you're getting the right fencing to fit your needs. With so many different types of fences out there, ranging in purpose, material and price point, it's important to get the right one.
To start off, you want to make sure you keep your goal in mind as you're determining your fencing solution. Are you getting a fence for a temporary event or will it be a permanent addition to your property? In addition, you want to consider your budget. Not all fences are made equal, and that's reflected in what they cost, so it's important to keep that in mind as you make your decision.
What are my Options?
First step is determining if you're looking for a fence for residential use or commercial use.
Residential Fencing
If you're looking for something to surround your residential home or yard, the main question is to consider the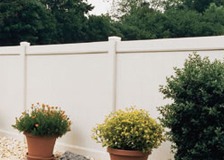 material you want and your budget.
From vinyl to wood to chain link, each has their own pros and cons, mainly if it's for privacy, aesthetics, or just to add some security, like for a pet or a pool. Knowing those two things, though, will give you a good start on transforming your yard.
Commercial Fencing
For commercial fencing, there are a lot of options. You'll need to start with the purpose. Are you looking for temporary fencing for an event? A construction barrier? A specialty enclosure?
At Woodsmith Fence Corp., we offer a variety of fencing solutions, built to meet your specific needs. We are skilled at installation, keeping your temporary fencing project on time. We also are skilled at disassembly if necessary.
We can develop a custom solution for your fencing needs. As an expert in the fencing industry, we'll be happy to tailor a plan to suit your needs. Visit our gallery to see what we've done in the past.
We also perform expert fence repairs to keep your fencing in good condition and your space secure.
Contact Us
At Woodsmith Fence Corp., we provide expert fencing solutions tailored to your needs. Whether residential or commercial, we're ready to offer you our experience at an affordable price. Contact us today to discuss your needs so we can hep you find the perfect fencing solution for you.