Temporary Fencing For Schenectady, NY
Woodsmith Fencing, Corp is the number one provider of temporary fencing, for both residential and commercial clients in Schenectady, NY, and the surrounding areas. Partner with Woodsmith Fencing, Corp. for a temporary fencing solution to crowd control, access point security, outdoor event management, and construction site safety.
Fencing Options and Materials
Woodsmith Fencing Corp. is a full-service provider of fencing options for any type of event or property. For more information on available products, to schedule a consultation, or receive a free quote give them a call today at 716-433-1300.
Fencing Materials and Styles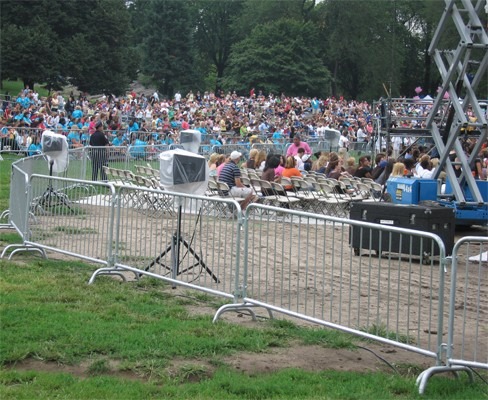 Choose from a wide variety of fencing materials and styles. Partner with Woodsmith Fencing Corp. and let them help you to customize a plan for any fencing purpose.
Temporary Fencing for Schenectady, NY Crowd Control
Quickly deploy pedestrian fencing to contain and control gathering or existing crowds. Gain control over large masses of pedestrians without the need to employ additional human resources. Integrate portable fencing with existing structures ie. building walls, and naturally occurring barriers ie. tree lines and waterways to form a containment ring, providing safety and preventing property damage.
Security Fences for Access Points
Control traffic patterns and flows using temporary fencing, adding an additional level of security. Pedestrian and/or auto traffic can be identified, validated and directed towards or away from sensitive access point locations.
Outdoor Event Fencing
The use of portable fencing is an absolute must when hosting major outdoor events. Concerts, conventions, and sporting events benefit when portable fencing is employed to control access points. Use pedestrian fencing to manage crowd traffic flows and separate active and passive locations, preventing property damage
Temporary Construction Fencing
Increase construction site safety by using temporary fencing to prevent unauthorized access. Temporary fencing increases overall construction site security preventing trespassing, property damage, and theft.
Contact Us To Rent Fencing
For more information on how your company can benefit by using temporary fencing, pedestrian fencing and portable fencing provided by Woodsmith Fencing Corp. Schedule a free consultation, call them today at (716) 433-1300.