Pedestrian Barriers Available in Pittsburgh, PA
As you coordinate your special event in Pittsburgh, PA, and look for the pedestrian barriers you need to keep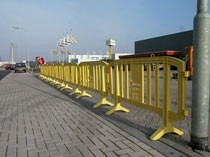 your event attendees safe, turn to Woodsmith Fence Corp. Whether you're hosting a fundraiser, concert, festival or something else, our pedestrian barricades are the perfect solution for you, regardless of the size of the event - big or small.
Available in a variety of styles and tailored to your needs, our pedestrian barrier rentals are portable, versatile and easy to install. Our team of knowledgeable fencing contractors will be able to quickly install your pedestrian barricades and disassemble them when your event is over; you'll have no worries about staying on your tight schedule.
What You'll Get with Woodsmith's Pedestrian Barriers:
A solution tailored to your needs and budget
Excellent customer service
Durability and reliability
Utmost safety
A variety of styles
And more!
Contact Us
Complete your Pittsburgh event with a pedestrian barrier from Woodsmith Fence Corp. We'll be happy to get you the temporary fencing you need while working within your budget.