Pedestrian Barricade Rental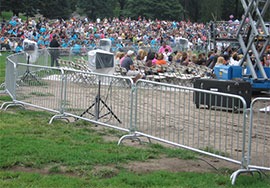 If you are a special events coordinator or a company that facilitates special events for large masses of people, Woodsmith Fence Corp has the pedestrian barricade rentals you are looking for. Our pedestrian barricades are:
Durable
Easy to install
Available in various styles
Effective for crowd control
We have provided our pedestrian barricade rentals for large organizations including Nascar and the PGA. Our variety of options makes us flexible and able to fit your event with the style of barricade that you need.
Why Choose Woodsmith Fence?
It is simple! We provide an excellent product with excellent customer service. Both of these are very important to us and helps us build lasting relationships with our customers. We actually focus on quality, honesty, integrity, and customer service before focusing on bottom line profit.
We have a set of core values that guide our company as we grow and do business with our customers.
OUR CORE VALUES
High Performance
Family
Excellence
Customer Intimacy
Trust
Growth
Integrity
Loyalty
Contact Us
If you need pedestrian barricade rentals for your next event, rely on Woodsmith Fence. Our team of professionals can work with you or completely take charge of the project, depending on what you need.
---
Proudly serving:
Allentown, PA
Bethlehem, PA
Binghamton, NY
Cheektowaga, NY
Cleveland, OH
Columbus, OH
Depew, NY
Erie, PA
Hamburg,NY
Mount Vernon, NY
New Rochelle, NY
Niagara Falls, NY
Philadelphia, PA
Pittsburgh, PA
Rochester, NY
Schenectady, NY
Scranton, PA
Syracuse, NY
Tonawanda, NY
Toledo, OH
Utica, NY
Yonkers, NY
& More