Depew, NY Vinyl Fencing
It's been said that a fence can make or break a backyard. You want something that's durable, something that can handle the harsh weather of Depew, New York. You want something that looks great but doesn't require you to constantly be in upkeep mode. A vinyl fence from Woodsmith Fence Corp could be just what your space needs to go from good to great.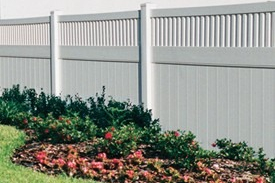 The Many Styles of Vinyl Fencing
As a fencing installation company, we know that your business is unique and requires its own unique style. That's why we offer over 30 distinct styles of vinyl fencing, coming in four classic colors, along with a wood grain option. Our fencing contains no harmful additives, and due to its material, it's resistant from the fading that comes to other fences during the harsh Western New York winters.
Here are three of our most popular - but not only! - styles:
Nottingham
This beautiful style of fencing is perfect for those that want a mostly protected and secure backyard that still feels open. Typically, this style goes well with a modern style.
Brandywine
If you've ever dreamed of having a white picket fence, you've been dreaming of Brandywine. It'll keep your pets and your kids in the yard, and the evenly spaced pickets are flush with the bottom rail, making them easy to deal with when you're mowing your lawn.
Lakeland
As a fencing installation company, we see more and more consumers choose Lakeland style fencing for its durability, privacy, and security. It comes with intricate latticework along the top.
Give Us a Call Today
Not sure what you want? Then why don't you take a look at our gallery and see if any of the vinyl fencing options strikes your fancy. Consider what you want your property to look like when it's finished - do you want something private, or something open? When you're ready, give us a call and we'll come down and provide you with a free, no-obligation estimate of what it will take to get vinyl fencing in your yard in Depew, New York.