Cheektowaga, NY Chain Link Fencing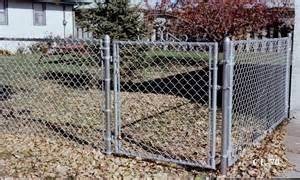 Upgrade the look of your commercial space with Woodsmith Fence Corp's professional chain link fencing installation. Chain link is one of the most widely used materials for fences today, and we are the Cheektowaga, NY, experts at chain link fencing installation. Woodsmith Fence Corp offers residential and commercial vinyl coated chain link fencing. We are committed to providing you with high quality, affordable, low maintenance fencing.
Chain Link Fencing Options
Our chain link fences are available in 30 distinctive styles with a wide selection of fabric, framework, gates, and accessories, so you can choose what works for you to create the perfect fence system. There are many different heights, gauges, and colors, making it easy to enhance your home with a fence that suits your taste. Styles we offer for chain link fencing installation are:
Lakeland Vinyl Fencing - provides a solid privacy wall with tongue and groove verticals
Brandywine Vinyl Fencing - provides the nostalgic feel of a traditional picket fence
Country Estate Eagle Fencing - provides the privacy of a simple yard wall
Nottingham Vinyl Fencing - provides carefully spaced verticals to let air in and keep your privacy
See our gallery of satisfied vinyl chain link fencing customers.
Advantages of Vinyl Chain Link Fencing
PVC (polyvinyl chloride) building products have numerous energy, construction, and environmental benefits. Vinyl is the most widely used plastic for construction because of its durability and resistance to moisture and abrasion. This means it won't corrode or rot like other materials. Vinyl chain link fences are low maintenance because they don't need to be painted, are fungus and rot free, as well as insect and termite resistant.
Our Chain Link Fencing Company Exceeds Your Expectations
Woodsmith Fence Corp is the premier chain link fencing company for Cheektowaga, NY, and surrounding areas. We are built on honesty, integrity, and dedicated to excellent customer care. We are licensed, bonded and insured and have the experience and knowledge you need for quality chain link fence installation. Contact us or give us a call at 716-433-1300 today. We look forward to exceeding your expectations!