Fencing Solutions
Whether you're setting up a fence in your backyard or in front of your commercial business, Woodsmith Fence has all the right fencing solutions to meet your needs. Our fencing solutions are both reliable and picturesque, adding the perfect finishing touch to any property.
Vinyl Fencing

Woodsmith Fence has over 30 distinctive styles of vinyl fencing options. From decorative to picket, to post and rail, all vinyl options are available in our four classic colors, as well as wood and grain.
Our types of vinyl fences include:
Lakeland Vinyl Fencing
Brandywine Vinyl Fencing
Country Estate Eagle Fencing
Nottingham Vinyl Fencing
Chain Link Fencing
The security of a chain-link fence gives your property protection like no other. Our residential and commercial grade galvanized and vinyl coated chain link fences will meet every concern at an affordable price.

Chain link fences are known for high endurance, strength, and stability, making it one of the most common fences for any sort of property. We offer a wide selection of fabric, framework, gates and accessories to create the perfect system for you. Our various heights, gauges, and colors can be customized to easily blend with the landscape.
Aluminum Fencing
A Jerith aluminum fence immediately adds value and prestige to any property. This traditional wrought iron fence is maintenance-free and is available in a wide variety of styles, colors and heights—something for every home.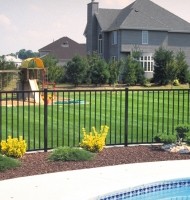 All Jerith aluminum fence panel styles have matching gates available that are constructed with a welded frame capable of holding 250 pounds without collapsing. Each fence is backed by our Lifetime Warranty, which covers our products against rust, defects in workmanship and materials, as well as chipping, peeling, or cracking.
Wood Fencing
The classic wooden fence is a good look for any home. Natural wood can provide years of satisfaction and privacy, and our team of expert designers can help you create the perfect style to compliment your home.
Our types of wood include: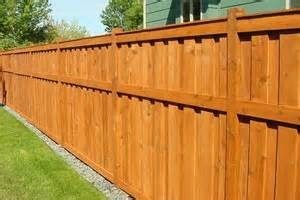 Western red cedar
Pressure-treated red pine
Locust
Spruce
Services
We specialize in all aspects of fence and gate design, including fabrication, installation, repair, and maintenance. We also do specialty items such as dumpster enclosures, pet kennels, handrails, retractable safety bollards, stadium fencing, athletic field fencing, gate controllers, agricultural fencing, bench seating, pool filter, air conditioning enclosures and more.
We also offer repair services for all fences. We have the tools and experience to make any fence look brand new as if nothing ever happened to it. No matter what the cause of damage is, rest assured we will fix it. Woodsmith Fence is a creative, customer-focused company that is motivated and devoted to its customers, employees, and family members. Our company was built on honesty and integrity, which is what makes us Western New York's top fence provider. We are committed to every customer and will always devote all of our time and attention to meeting our customers' needs. No matter the type of fence you need, Woodsmith Fence has all of your fencing solutions.
Contact Us
Contact Woodsmith Fence Corp today to get unmatched customer service and fence repair from experienced professionals!
Proudly serving:
Allentown, PA
Albany, NY
Bethlehem, PA
Binghamton, NY
Cheektowaga, NY
Cincinnati, OH
Cleveland, OH
Columbus, OH
Depew, NY
Erie, PA
Hamburg,NY
Mount Vernon, NY
New Rochelle, NY
Niagara Falls, NY
Philadelphia, PA
Pittsburgh, PA
Rochester, NY
Schenectady, NY
Scranton, PA
Syracuse, NY
Tonawanda, NY
Toledo, OH
Utica, NY
Yonkers, NY
& More