West Seneca, NY Vinyl Fencing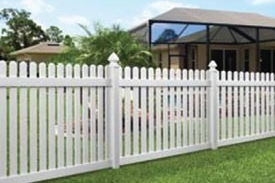 Imagine pulling up to a property you're thinking about buying and finding a weather-beaten fence with chipped paint, missing boards, and rusted nails sticking out. No matter how nice it is behind the fence, you're going to be immediately put off. Outdoor landscaping is the first thing people notice when they drive past a house, and you need to make sure your house sends the right message. Of course, it goes further than that - a solid, well-built vinyl fence will not only make your West Seneca, NY home look great, it'll also keep your yard safe for pets and children, no matter how mischevious they might be.
Vinyl Fencing Installation in West Seneca, New York
Vinyl fencing is attractive for homeowners for many reasons. To start with, no harmful additives are used, which means your vinyl fence will be both environmentally friendly, and safe for pets and children. Vinyl also has the advantage of being extremely weather resistant. No matter how many harsh winter blizzards blow through, your new fence will stand the test. Lastly, our vinyl fencing company provides a wide array of styles and colors, which will ensure you get the look you crave.
How We Can Help Put Up Your Vinyl Fence
Our business wasn't built by focusing on the bottom-line, it was built by providing honest service to hardworking people like yourself. We are willing to accommodate any budget, and we'll provide creative solutions that will allow you to get the great look you deserve. If you're not sure what type of vinyl fencing is for you, don't worry! Our team of experts will be happy to provide you with a free consultation. We'll discuss the different styles of fencing, color options, and provide you with our expert opinion on what we think would look great on your property. Best of all? This is a free service - we're willing to do whatever it takes to make your next fence your best fence.
Get Your Free Consultation
If you're ready to get started, give us a call or fill out our online form and we'll book you in for a free estimate and consultation. We can't wait to show you all the benefits of vinyl fencing!