Tonawanda, NY Wood Fencing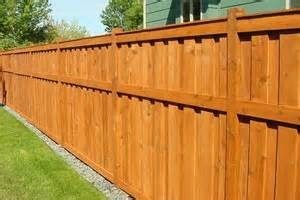 A bad or broken fence in Tonawanda, New York, can create many problems. For starters, if things are really bad, it becomes a safety hazard. Pets can escape and run into the road; children can get nasty splinters or cut themselves on open nails. An old fence also looks bad and hurts your home's curb appeal. Consider that outdoor landscaping is usually one of the first things that people notice. If you're trying to sell your home, no matter how nice it is, people are going to look at the fence and dock you points - which means you'll undoubtedly have to settle for lower offers than you would have liked. Whether time has destroyed your last fence, or you're just looking for an upgrade before things get too dire, we'd like you to consider our wood fencing.
Wood Fencing Installation in Tonawanda, NY
Wood fencing provides your property with an attractive, classic look. While other styles of fencing may change with the season, wood fencing is always in style. As an added bonus, using wood is environmentally friendly - you don't have to worry about any harmful chemical additives. When you look through the options provided by our wood fence company, you'll notice that there are a number of different styles to choose from. You could go with something high that blocks your neighbors' sight lines of your property - perfect for privacy - or something more open that allows light to filter through. The choice is up to you!
Quality Wood Fencing
We pride ourselves on being the best wood fencing installers in Tonawanda. Our friendly team of experts will work with you to provide a creative and affordable solution that allows you to get the fence you want to be installed on your property. We'll work hard to stay below your budget while still giving you the great wood fence you crave.
Get a Free Consultation from Woodsmith Fence Corp
If you're not sure which type of wood fencing best suits your property, we can help! We offer all of our customers a free consultation and estimate. We'll send someone out to your property to discuss your options, and then we'll let you take your time to make a decision. Just fill out our online form to get started!