Tonawanda, NY Aluminum Fencing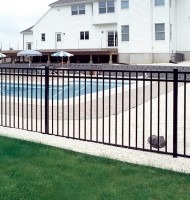 Wrought iron fencing is highly sought after, but it comes with a hefty price tag and takes a lot of maintenance to keep it looking its best. For an amazing fence that has a similar look to wrought iron without all of the maintenance needed, there is ornamental aluminum fencing.
Ornamental Aluminum Fencing
To improve the look of your outbuildings, aluminum fencing is a great way to add curb appeal and to improve your property's value. These ornamental fences come in a wide variety of shapes and styles, and they are all sturdy and durable.
Aluminum Fence Installation
If you've decided to get a fence, the next step is to choose the style, height, and placement. After these decisions are made, the aluminum fence installation begins. It will be placed according to your decisions and will last for many years to come. These fences look great, and they are made with high-quality materials. Aluminum is one of the lightest metals, but it makes a strong fence due to its strength.
Aluminum Fencing
Aluminum is a versatile metal that can be made into the fence you want. The range of styles are perfect for those who want just the right look for their new fence. Whether it's around the swimming pool, a gate for an estate, or a picket fence around an apartment building, these fences are built to last and won't rust after being in the elements.
Our fences use the best materials to make them sturdy and ready for years of use. There is virtually no maintenance with this type of fence, allowing you to simply enjoy it rather than painting and repainting it regularly.
By choosing an aluminum fence, you are getting a strong, reliable fence that costs far less than a bulky, high maintenance wrought iron. And, you can get it to accommodate your needs and tastes. Contact us today for more information!