Special Event Fencing For Cincinnati, OH
Looking for special event fencing in Cincinnati, OH? Rely on Woodsmith Fence Corp. We provide event fencing services for Cincinnati, OH and the nearby areas.
Quality Products
Easy and Fast Installation
Durable, Portable Fencing
Variety of Styles and Types
High Performance Focused
Family Oriented
Reliable Fence Company
Committed To Our Customers
Form Meaningful Business Relationships
Built on Trust, Growth, Loytalty, Integrity
Offering A Variety Of Event Fences
Different events will require a different fences when needing to control crowds. Concerts may require more heavy duty event fencing as opposed to food related festivals. Televised events may require more up-scale fencing to help the even make a lasting impression. Woodsmith Fence Corp has a variety of speciality event fences available for all kinds of events. We have the white picket fences that will make a great appearance on TV as well as the durable fencing for concerts and sporting events. By nature, some of our event fences are much better at keeping pedestrians away from a designated area than others. The other fences may be far more practical for their specific use. Simply guiding people, or setting boundaries at low-key events will not require as heavy-duty of fencing. The size of the event is also a factor. If you know what kind of fence you need, great! If not, don't hesitate to ask our experts. We serve a variety of clients and can make recommendations based on the type of event you describe to us. We make it as easy as possible for you and work with you to find the best solution for event fencing.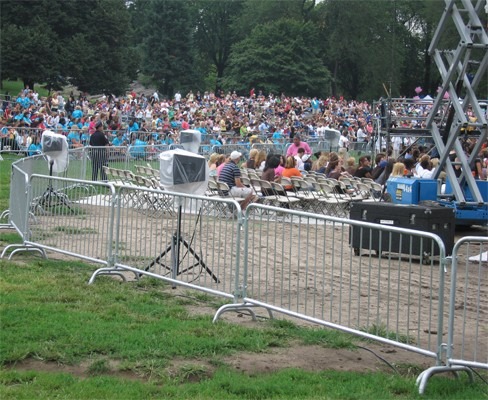 Events We Provide Services For:
Sporting events
Concerts
Fundraisers
Festivals
Parties
Street fairs
Company events
Promotional events
Tournaments
Group functions
Graduations
Birthdays
Races (walks/runs)
& much more
Why Trust Woodsmith Fence Corp?
Since 2006, Woodsmith Fence Corp has been the solution to several needs of many organizations and businesses needing special event fencing. We have provided countless event fences and have expanded our business to 3 main locations. We are not strictly confined to these offices however. If you are near them, give us a call and we will discuss potential travel plans to your location. Lets talk about your business or organization and what kind of fences you'll need. If you are unsure about what exactly you need, our experts will make suggestions based on the type of special event you are looking to host. Again, we are built on trust, loytalty, customer relationships, and growth. We will prioritize your customer experience and relationship over bottom line profit.