Picket Fences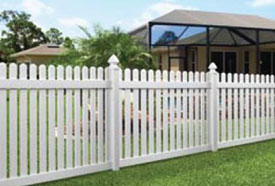 Woodsmith Fence Corp is your go-to source for picket fence installation. Picket fences are extremely popular for many residences and for some businesses. Woodsmith Fence Corp installs Brandywine vinyl fencing in picket style. It has ⅞ x 3-inch pickets that are spaced just under 2 inches apart. This provides a perfect aesthetic balance of privacy, openness, and style. In addition to the nostalgic feel this type of fence will provide, our picket fences are flush with the bottom rail for improved safety for children, animals, and lawn equipment.
Picket Fences have a very nostalgic feel because the style has been around for a long time. In old Europe, they were a military fence that were sharpened to defend against cavalry. New world colonists then made slight modifications to the fence parts. With fancier parts, these fences became fashionable and were mass produced in the 19th century. These fences' popularity surged again in the 1980s by new Urbanist developers.
Quality Installation Services
If picket fences strike a chord with your and you want to make an addition to your property, rely on Woodsmith Fence Corp for picket fence installation. In fact, we even have temporary picket fences that make for a great addition to large events. We have upscale PVC picket fencing that has been used worldwide at Nascar tracks, PGA tournaments, and other prestigious events, and other prestigious events.
Contact Woodsmith Fence Corp
We take pride in the relationships we build with our customers in addition to our professional fence installation services. We aim to build lifelong relationships so everybody wins. Our company is built on high performance, integrity, loyalty, trust, excellence, growth, family, and customer intimacy. We are more than a fence company, we are a partnership. Your partnership! Call us today to get started!