Pedestrian Barrier Rentals For Cincinnati, OH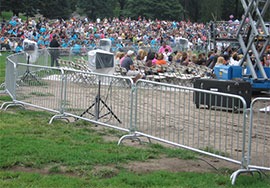 Looking for pedestrian barriers to help organize your event? Rely on Woodsmith Fence Corp., your source for all kinds of temporary fences. To throw a successful event, oftentimes, crowd control is paramount. Not to say every crowd is going to cause trouble, but creating designated space and systems with pedestrian barriers can certainly help maintain order. These are especially useful for concerts, creating restricted areas in front of the stage for security.
Quality Products
Here at Woodsmith Fence Corp, we aim to bring you the best products for the job. Our pedestrian barriers are:
Durable
Easy to install
Available in various styles
Effective for crowd control
Many organizations have used our pedestrian barriers including Nascar and the PGA tour. We are confident that we can provide you with the fencing products and services you need to run your event successfully.
Why Choose Woodsmith Fence?
We provide our customers with not only high quality products, but high quality customer service. Building meaningful business relationships is a very important part of our everyday business operations. We focus our business efforts to be guided by honesty and integrity.
OUR CORE VALUES
High Performance
Family
Excellence
Customer Intimacy
Trust
Growth
Integrity
Loyalty
Contact Us
How can we help your Cincinnati based event? Contact us today and let's discuss your needs for your event. We have plenty of solutions that can fit a wide variety of fencing needs.