Pedestrian Barrier Rental For Cleveland, OH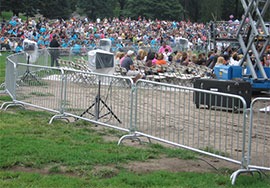 If you are a special events coordinator or a company that facilitates special events for large masses of people in Cleveland, OH, Woodsmith Fence Corp has the pedestrian barricade rentals that you are looking for. Our pedestrian barricades are:
Durable
Easy to install
Available in various styles
Effective for crowd control
We have provided our pedestrian barricade rentals for large organizations including Nascar and the PGA. Our variety of options makes us flexible and able to fit your event with the style of barricade that you need.
Pedestrian barriers are a necessary component to a variety of large gatherings. Music festivals, concerts, fairs, tours, corporate events, and so much more can benefit from temporary pedestrian barrier rentals. Pedestrian barriers need to be heavy duty and portable, yet strong and stable. The portableness is easy for our company as we have the tools and equipment that make installation and disassembly simple and quick. As for the durability of the product, our barricades are built tough. When linked together for a longer distance, these portable, temporary fences become very effective as they would be very difficult to move out of the way.
Ultimately, these barriers do a great job of setting boundaries for crowds and helping to maintain order, helping to keep everyone safe. Allowing your event to run smoothly with no hiccups. If this is a first time running an event, please feel free to seek suggestions from our team of experts as we have done countless installations for a wide range of events. We have even used our high-end pedestrian barricades for more prestigious events, such as the PGA Tour and Nascar tracks. Even if your project is not at the PGA tour level, you can still expect the same level of attention and customer service that we provide our high-level customers. We do this to build long lasting relationships with our customers and provide the best service possible.
Why Choose Woodsmith Fence?
Our core values help drive how we operate as a company and how we do business with our customers. Always putting the customer first is something that we pride ourselves on so we can be the best option for you when you are choosing a fence company. We truly aim to be the best business we can be to help support our customers and our employees.
OUR CORE VALUES
High Performance
Family
Excellence
Customer Intimacy
Trust
Growth
Integrity
Loyalty
Contact Us
All you have to do now is call us and let us know what kind of project you have and the pedestrian barrier fencing you need. Our team of experts will help you every step of the way. Remember, if you are in the Cleveland, OH area, Woodsmith Fence Corp is your go-to fence company for all fence solutions! Call today!