Event Fencing in Tonawanda, NY
As you prepare for your event in Tonawanda, NY, and look into the right pedestrian barriers to keep the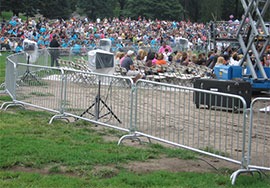 event safe, organized and running exactly as planned, look at Woodsmith Fence Corp. and our temporary event fencing we offer.
From concerts and festivals to charity events and any other Tonawanda event (no matter the size of the event), Woodsmith Fence has the event fencing to meet your needs. Our temporary fencing solutions will be tailored to your needs and budget, making them perfect for you.
About Our Fencing
Our event fencing is available in several forms, specializing in pedestrian barriers. We offer installation and quick disassemble, easily keeping you on your strict timeline. We focus on providing exceptional customer service in addition to our high quality fencing, and you can tell.
Contact Us
As you finish preparations for your event, look at Woodsmith Fence Corp for your temporary event fencing needs in Tonawanda, NY, or the other areas of Western New York. With budget friendly planning, contact us today asd let us help you make your event a success.