Event Fencing in Lockport, NY
As you plan your event in Lockport, NY, or throughout the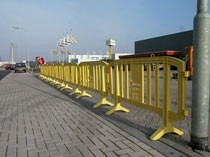 Western New York area, get your event fencing from Woodsmith Fence Corp. We are fencing experts, able to provide custom solutions to your crowd control and safety needs.
Whatever the type of event, from concerts and festivals to tournaments and company events, we will provide fencing to keep your event organized and running smoothly – no matter the size.
We create custom temporary event fencing based on your needs and install it quickly where you need it. Then, when the event is over, we can take it down quickly, ensuring your special event schedule stays right on track.
Why Choose Woodsmith for Your Event Fencing?
Our expert special event fencing solutions aren't the only reason for you to choose Woodsmith Fence Corp. We are a leader in the industry, offering phenomenal service to all of our customers. With this, we are also always on time and keep our services affordable; our customers are our backbone and we know how important loyalty is.
Contact Us
As you're looking for event fencing in Lockport, NY, or the surrounding area, consider Woodsmith Fence Corp. Contact us today for more information on the fencing we can provide you with.