Driveway Gates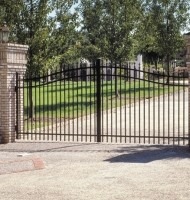 For those who own or live in residential homes or commercial properties, the idea of installing a driveway gate may initially seem superfluous, convoluted, or even unnecessary. However, with Woodsmith Fence Corp's variety, reliability, and commitment to core values, private driveway gates are more accessible and beneficial than ever.
Woodsmith Fence Corp, a leader in the gate installation industry, provides services to Buffalo, New York, Pittsburgh, Pennsylvania, and Cleveland, Ohio. We are licensed, bonded, and insured, and driven by our unwavering dedication to our core values of providing a high performance product, demonstrating excellence in all we do, and centering family and customer intimacy above all.
As an experienced force in the industry, we understand the most salient benefits of driveway gate installation are safety and security. A driveway gate not only gives you the ability to control who enters your property and when, but also offers an extra layer of protection regarding children or pets by preventing them from easily leaving or wandering off. Aside from safety and security, driveway gates also increase property value, boost curb appeal, and offer automated convenience—all with the added bonus of extra privacy.
If these benefits seem right for you, Woodsmith Fence Corp is here to make the process as simple, straight-forward, and steam-lined as possible. We're ready to work with you to find a gate that best suits your needs, budget, and aesthetic, and we're always available to address any questions or concerns you may have. Our financial bottom line is not our number one priority, our clients are. We're committed to building trust with the clients and communities we serve, promoting staff and company growth, and fostering genuine bonds of integrity and loyalty. We seek to form and maintain lifelong relationships with our clients and communities, using our skills and services to serve and support.
If you're ready to take the step of installing a driveway gate, Woodsmith Fence Corp is at your service. Contact us today via phone, fax, or email. We also have three brick and mortar locations in Lockport, Pittsburgh, and Cleveland. We look forward to hearing from you!
Reference: Top 6 Benefits of Installing a Driveway Gate