Cleveland, OH Commercial Fencing
No matter the occasion, Woodsmith Fence Corp. can give the best quality temporary or permanent fencing in Cleveland, OH, and the surrounding areas. Being the industry leader in fencing is nothing to bat an eye at and we have the service to prove it! Give us a call today and let us do the fencing for you.
Permanent Commercial Fencing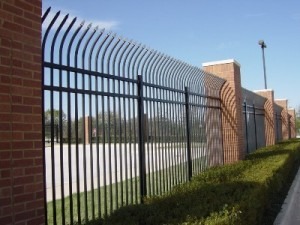 There are many security measures you can take to protect your commercial property or place of business. A popular and often attractive way to keep your property secure is to install permanent commercial fencing. Such fencing can keep people from gaining unauthorized entry to your property. Aside from creating a barrier to entry, commercial fencing can also provide an aesthetic appeal to your facility. Woodsmith Fence Corp. has a variety of materials and styles from which to choose so if you care about the look of your commercial property, you'll be interested in choosing a fence that appeals to those on the outside.
Temporary Commercial Fencing
Certain situations call for temporary commercial fencing rather than permanent. You can install temporary commercial fencing and keep it assembled for as long as you need it and it can be taken down as quickly as it was assembled. If you have special events where crowd control might be an issue, then temporary commercial fencing makes sense. Additionally, if you have construction going on, then you need some type of temporary commercial fencing to provide a barrier to keep people from wandering into the construction area either accidentally or intentionally. Such a measure must be taken to protect people from a dangerous construction site. Once you no longer need the fencing, we'll come back and take it down and haul it away.
Service You Can Count On
The professionals at Woodsmith Fence Corp. have been installing commercial fencing in the Cleveland, OH area for years. Our reputation speaks for itself when it comes to our impeccable service and ability to install fencing on time and on budget. When you need commercial fencing, whether it be permanent or temporary, then look no further than Woodsmith Fence Corp. Your satisfaction is our number one priority.