Cheektowaga, NY Aluminum Fencing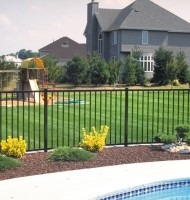 There are many ways to decorate the exterior of your Cheektowaga, NY home, apartment complex, or commercial space. One great way to add style to your property while also increasing your property value is by installing ornamental aluminum fencing. With hundreds of styles to choose from, an ornamental aluminum fence offers the same prestige as a traditional wrought iron ornamental fence, but without the detriments of wrought iron. If you want to spruce up your Cheektowaga property with aluminum fence installation, trust the experts at Woodsmith Fence Corp. to install a top quality product at a competitive price.
Benefits of Aluminum Fencing
Visually, there is little difference between ornamental aluminum fencing and wrought iron fencing. Both are available in a variety of traditional styles that look great surrounding open grass, pools, decks, or just about any other structure on your property.
The main difference has to do with maintenance. Due to the FencCoat finish we put on your fencing as part of the aluminum fence installation process, your fence will be highly resistant to rust, chipping, and cracking. This will keep the wood looking great for years to come. What little maintenance it will need is minor compared to the maintenance that a wrought iron fence would require after the same period of time.
Trust Our Expert Contractors
At Woodsmith Fence Corp. we have been providing high-quality aluminum fence installation in Cheektowaga, NY for years. Our expert contractors are highly knowledgeable about all of our products and can help you choose the fence that best enhances the style of your home and property.
Once you have chosen the fence you want, installation is performed quickly and with minimal disruption to your life. We schedule your fence installation at a time that is convenient for your schedule and complete the work quickly. When we are done, we make sure not to leave any sign we were ever there except for the new fence.
Contact Woodsmith Fence Today
If you considering adding ornamental aluminum fencing to your Cheektowaga property, contact us today to talk with an expert at Woodsmith Fence Corp. and get your free estimate for installation.